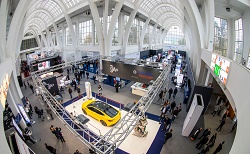 After one year of anti COVID measures which prevented people from visiting big social, cultural and business events Czech Republic is opening the door for trade fairs and exhibition and international visitors again. Relatively good epidemiological situation in the country allows the restart of trade fair and congress events in the Brno Exhibition Center. "Trade fairs are a part of business life. If we want to be back in business as usual, we have to learn to live with certain measures for some time", comments Mr. Jiří Kuliš, CEO of Brno Trade Fairs Co.
New rules for visitors and exhibitors
The basic rule is the proof of immunity of all show attendees based on the pre-condition of having been vaccinated, recovered from the Covid diseas, or tested. Visitors and exhibitors at the exhibition center must prove immunity upon entry. The same applies to the operating staff. Further safety measures as respiratory protection in accordance with current regulations or social distancing are in place. Aisles in exhibition halls and resting areas will be increased a few meters, disinfection stands are common. Conference rooms are disinfected before and after the event.
A recent survey among visitors and exhibitors confirmed that 80% of the trade fair participants see live presentations and face-to-face meetings at the trade fair as important for business and irreplaceable through online formats. The fashion fairs STYL and KABO open the new trade fair season on August 21st. The ANIMALTECH with the National Livestock Show will be staged in early September, followed by the World Dog Show. The professional defense and security fairs IDET, PYROS and ISET will take place in early October, while they confirm great interest of exhibitors.
Preparations for this year's International Engineering Fair, which has been postponed to the beginning of November, are in full swing. The main topic will once again be the digitization and automation of industrial processes. The fair will also focus on the field of 3D printing. For potential exhibitors who are geographically distant and have difficulty in travelling to Europe, the Brno Exhibition Center offers the option of hybrid exhibition booth with an online connection.
Source: www.bvv.cz
Prepared by the team of CzechTrade Jakarta