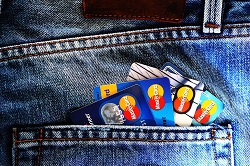 According to Masterdard Czech Republic recent survey a total of 28% of Czechs pay with their mobile phones because they are not willing to take their card out of their wallet or their wallet out of their pocket or purse. Another 21% users pay with their phone because they have it in their hand while standing in line at the store.
Mastercard's survey also showed that the popularity of paying by mobile phone or smartwatch is growing year on year in the Czech Republic. While four years ago 19% of respondents had ever paid with a mobile phone, in 2022 it was already 39%.
"Tokenised payment cards in various wearable devices have become the new market standard in the last few years. This is because customers prefer the methods that are most convenient and fastest when paying - and in the case of a watch or smartphone, PIN entry is eliminated at higher end. The trend is clearly towards people having a range of payment tools at their disposal. We know from our surveys that already 12 percent of Czechs use two or more wearable devices, most often a watch and a mobile phone, and pay intuitively in the way that is easiest for them at the time. The share of those who do not require a physical card at all is also growing rapidly," said Michal Čarný, CEO of Mastercard for the Czech Republic and Slovakia.
Even though people still carry cash, they see it primarily as an insurance that they will be able to pay even in places where cashless payments are still not accepted. When people leave their home, they most often carry a mobile phone (87 per cent) and a credit card (74 per cent). A wallet is then carried by 70 per cent of people.
Prepared by the team of CzechTrade Qatar
Source: www.cianews.cz/en; www.mastercard.com/news/europe/cs-cz