Strategic geografical location, long-established industrial tradition, reasonable costs, well-developed infrastructure and skilled labour force make the Czech Republic perfect source base for your business.
The Czech Republic is a highly open economy exporting three fourth of its output and attractive destination for foreign investments. Czech companies have a reputation of reliable partners and suppliers of high guality products, technologies and services.
Area: 78 864 km2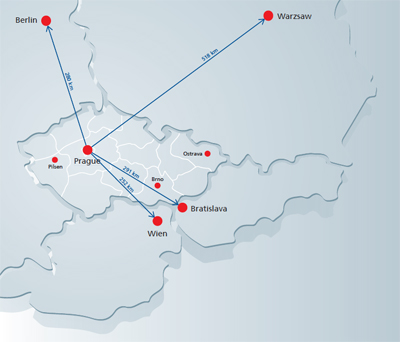 Neighbouring countries: Germany, Poland, Slovakia, Austria
Population: 10.5 million
Capital: Prague (1.2 million inhabitants)
Other large cities: Brno (378,000 inhabitants), Pilsen (169,000 inhabitants), Ostrava (292,000 inhabitants)
Official language: Czech
Currency: Czech crown, CZK
VAT: standard rate 21 %, first reduced rate 15 %, second reduced rate 10 %
Time zone: GMT+1, Summer GT+2th
Political arrangements: a parliamentary republic with a multiple party system
Administrative divisions: The Czech Republic is divided into 14 regions
Country-Profil_Czech-Republic (2,2 MB)
More facts and information about life&work, tourism, education and others in the Czech Republic on the website www.czech.cz/en/.
BusinessInfo.cz/en - The official business portal that is here to help foreign businesses navigate the Czech business environment. Current information on its website on the conditions for doing business and on investment and trade opportunities. You will learn, for example: