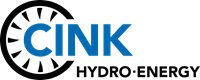 CINK Hydro - Energy k.s. Manufacturer. A supplier of complete small hydro equipment with Crossflow, Pelton, Kaplan and Francis turbines with capacity up to 10 MW per unit. Complete small hydro power plants, control systems for SHPP, trash rack cleaning machines.
www.cink-hydro-energy.com

TOKOZ a.s. Manufacturer of padlocks, cylinder locks, safety, security, hasps, bars, keys, locking, mechanical security, mechatronical security, OEM products from zamak, alluminium, stamping, powder coating, galvanizing, assembly, toolshop, tool, wellding.
www.tokoz.cz