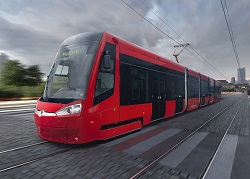 The ŠKODA Group has opened the offices of a new subsidiary in Florence.
The manufacturer of public transport equipment is thus strengthening its position on the international market. Olesea Lachi, who has long been responsible for sales of rolling stock in the SKODA Group, has become the managing director of the subsidiary.
Ms Lachi sees many similarities between the Czech operators and its Italian counterparts. "The specifics, preferences and habits of Italian operators are like the Czech ones. Many cities in both countries are UNESCO heritage sites and offer stunning historic centres characterised by narrow streets, arches with small, curved radius, which place higher demands on vehicle manufacturers."
In Italy, SKODA will focus its attention on train transport and urban rolling stock. The company will offer its partners a comprehensive solution - from the production of individual components to the delivery of  complete vehicles and their subsequent maintenance.
With a similar move, Škoda Group has successfully entered the German and Finnish markets. As one of the fifty countries where Škoda has delivered its products, the manufacturer has already worked on several orders for Italian customers in the past. Its trolleybuses run in Bologna and Cagliari, where Škoda has also supplied trams. Passengers can take electric units for a ride in Domodossola.
Provided by the team of CzechTrade Jakarta
Source: www.CIANEWS.cz